By Kevin Collins
Independent engineer and sports announcer
This user report was originally published in Radio World. To read the piece there, click here.
For approximately 10 years, I worked for the New England Patriots football team. I didn't have any radio skills when I began, but over the course of my first five years, I learned how to be an engineer and how to produce great radio. About a year ago, I decided to venture out on my own as an independent engineer, working with radio and podcasting clients.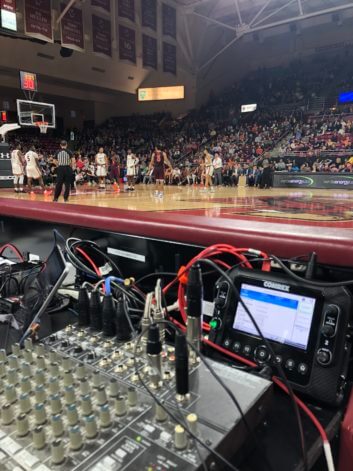 I now work with several organizations, and much of my time is spent working with Boston College. I oversee their football, basketball and hockey programming in a chief engineering role. Additionally, I do color commentary for their away basketball games. I played basketball all through college and studied journalism, so working as a color commentator is a natural fit.
Recently, I purchased an ACCESS NX (and finally retired my old ACCESS 2USB, which I had owned for seven years). To broadcast college sports games, we connect with IMG Learfield, which owns over 100 ACCESS units. When it's time to connect, I get in touch with my guy, find out which studio he's working from, select his ACCESS unit from a dropdown menu and hit connect. It's that simple.
The beauty of ACCESS is once we set up connection presets with IMG, we can now see all the different units they have online. So when it's time to connect, I can see the status of all their ACCESS units, and I don't need to enter additional information at any point.
When I was introduced to ACCESS, I was really intimidated. I was originally taught to use ISDN, and I wasn't sure what to do when IP codecs started to take over. I didn't want to let go of my ISDN, but after getting some pretty simple instructions and diving into the user manual, I discovered that IP codecs are even easier to use than ISDN.
CONNECTIONS
Not to mention, IP codecs are much more convenient to travel with. IP connections don't take up a ton of bandwidth, so as long as you're not sharing your connection with anything, you're all set. Most arenas these days have a dedicated network for handling home and visiting radio, so when I'm traveling around the country, there's usually reliable high-speed internet. Because networks are solid, it's very rare that I get a lot of dropped packets or struggle to connect. IP networks are everywhere now, which makes IP codecs very easy to use.
When I began buying equipment to start working independently, I ultimately chose to buy a Comrex ACCESS because I preferred the user interface. I also like having the portable ACCESS mixer available.
I usually travel with a large Mackie audio mixer, and rarely use the ACCESS mixer, but if I ever need a very bare-bones set up, it's a great solution. I also regularly send it out with talent if they won't have access to an engineer. It's plug-and-play and takes no real tech experience to set up; all they need is the ACCESS, mixer, microphones and some headsets.
In my opinion, ACCESS is the best IP codec I've worked with, and arguably the best one in the market. In the eight years I've been using one, I've never had a major problem. If I have anything minor, I know that I can call the support team and get dedicated, knowledgeable experts who will be able to answer my questions.
Comrex loaner units are also a lifesaver. I once had one for three weeks, when my unit was acting up right before the Super Bowl. Comrex took my ACCESS in for repair and gave me a lovely portable travel unit as a loan, free of charge, no questions asked. There are very few places in this line of work, or in any line of work, that give you that level of attention to detail and customer service.