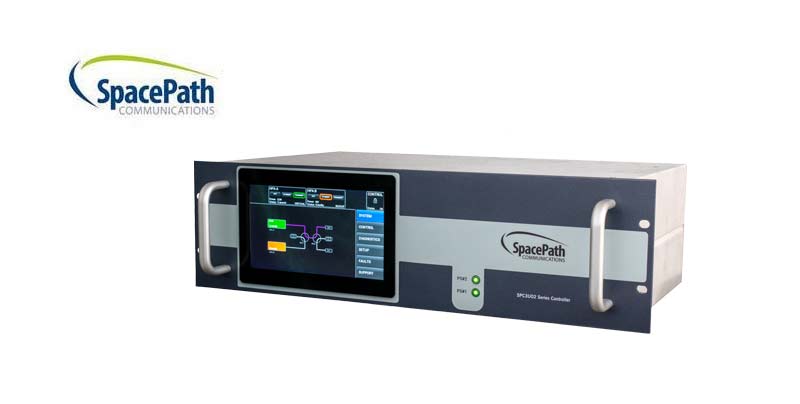 New Rack-Mount Controller Features Integrated Touchscreen Display for Simplified Amplifier Configuration, Status Monitoring and Diagnostics
14th March, 2023 – SpacePath Communications ('SpacePath'), a dedicated, European-based SATCOM amplifier manufacturer and equipment supplier, is showcasing its new Universal Controller at Satellite 2023 Exhibition in Washington DC.
As part of SpacePath's controller system portfolio, the new SPC3U02 Universal Controller is a user-friendly unit housed in a 3RU chassis which can be configured to operate up to three amplifiers along with three switches. Featuring a 7-inch touchscreen on its front panel, the intuitive digital display not only allows easy configuration of single thread or redundant 1:1, 1:2 and 1+1 phase, combined configurations with air-to-load and polarity switching combinations but in conjunction with the SpacePath Universal Amplifier Mounting System can provide a flexible sub-system approach.
Communication between controller and amplifiers is provided via a single cross site Ethernet connection. A new web-based GUI is also available which provides clear indication of amplifier status and RF switch routing.
A Beacon Receiver Input facilitates local connection to the controller which then remotely communicates to each of the amplifiers. The Uplink Power Control (UPC) can then be enabled to automatically control the uplink power to cater for all weather conditions.
The controller's touchscreen can be locked and a user login can be set to restrict access. SNMP is also supported to allow the operator to easily add the system into an existing M&C system.
David Melville, operations manager, said: "As we continue our mission to set new standards in system functionality, performance and innovation, this latest addition to our controller product line with its customer-led features reconfirms why SpacePath is a provider of choice within the global SATCOM market."
SpacePath's high performance uplink amplifiers cover all mission-critical segments including satellite newsgathering (DSNG), flyaway or truck-based systems, fixed-earth stations and military satellite communications.