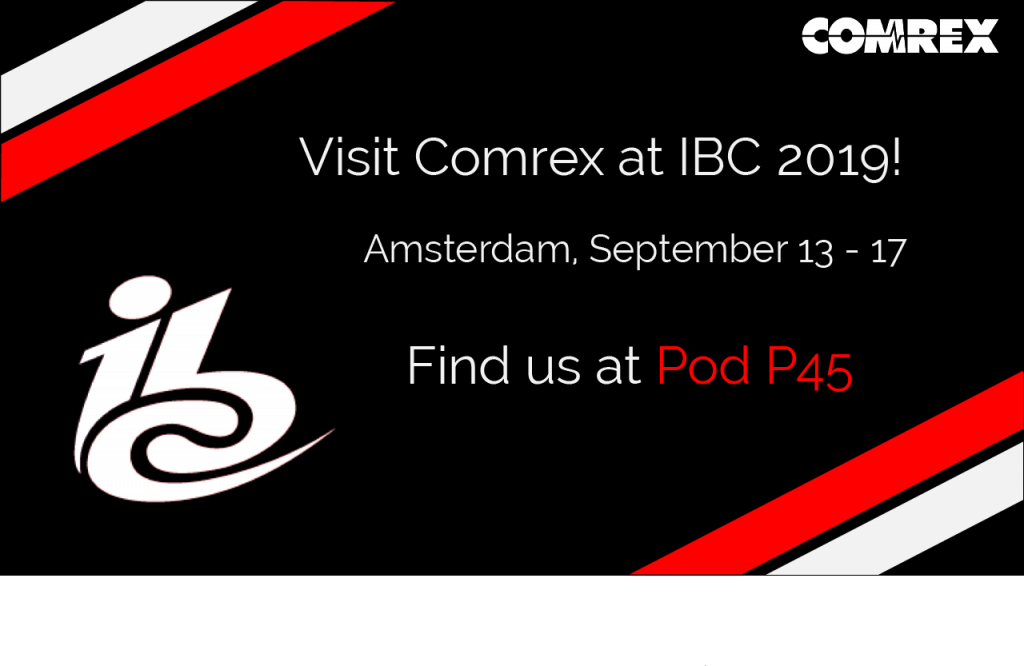 We've got a lot planned for IBC 2019 – two new products, a new function for our IP codecs, and even more. Here's what you can expect to see at our booth (Pod P45). 
ACCESS NX Rack (Now Shipping!)
ACCESS NX Rack is a revamped version of our classic ACCESS Rack, with one major change – it's AES67 compatible. (It can also be configured for AES3 and analog audio I/O, so you've got other options.) ACCESS NX Rack also features a new HTML5-based user interface – no more Flash! Plus, ACCESS NX Rack is backward-compatible with all Comrex IP audio codecs and the FieldTap smartphone app, so you can use it with your existing equipment.
ACCESS MultiRack
Coming next year, ACCESS MultiRack is our brand new IP audio multicodec. Able to support up to 5 full-duplex audio connections at one, ACCESS MultiRack is equivalent to 5 ACCESS codecs, contained within a sleek 1RU chassis. MultiRack is compatible with NX Portable and BRIC-Link codecs, plus the Comrex FieldTap smartphone app. MultiRack features AES67 compatibility on all 5 codecs, along with AES 3 and Analog compatibility in the first codec.
HotSwap
We've created a new function for ACCESS and BRIC-Link codecs called HotSwap. HotSwap allows users to designate one network as a backup that will only engage when the primary network has failed. Fall-over to backup happens in a matter of seconds, and fallback is seamless. Best of all, HotSwap is included for free with the most recent version of ACCESS and BRIC-Link firmware, so you can download it right now.
EarShot IFB
EarShot IFB is a hardware-based VoIP (Voice-over-IP) auto-coupler solution that replaces Plain Old Telephone Service (POTS) couplers. VoIP technology makes it possible to replace up to 30 telephone couplers with one Ethernet connection, reducing costs and making it easier to supply audio feeds to more listeners. EarShot IFB is now shipping and available for purchase.