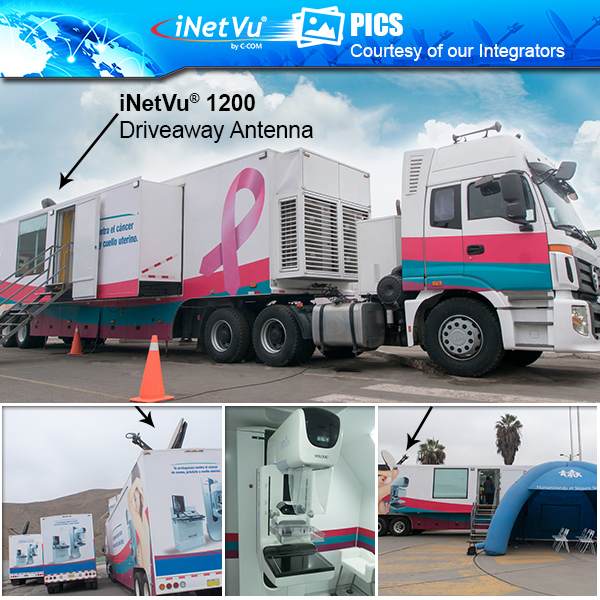 Nearly 50% of the world's population have no access to basic health services. The vast majority of this population live outside cities, in peri-urban or rural areas, where few hospitals exist.

e-motion activity SAS, before alegria activity América S.A.) a C-CO M partner in South America, is seeking a solution to these 'hospital deserts'. Using iNetVu satellite technology, e-motion is bridging the digital divide with telemedicine vehicles, which bring world class medical facilities to customers who find themselves many miles from a comprehensive health care center.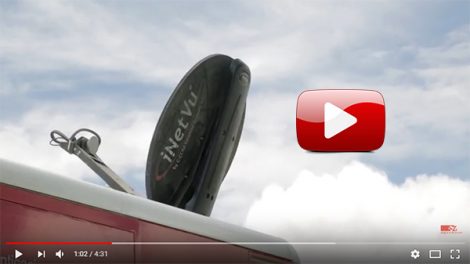 A total of 3 mobile units were designed and built to educate and assist people in early detection of prostate & breast cancer in remote areas. With the help of C-COM, e-motion has set-up connectivity between its mobile care centers and specialized clinics in Lima. In real-time, doctors and specialists receive and analyze the tests from their location using SOFTWARE PACS sent via satellite. The results are returned on the same day, both quickly and securely.
Innovations in medical technology, health monitoring, and satellite telecommunications have the potential to quickly monitor, diagnose, and treat those people who don't have reliable access to a healthcare facility. Governments around the world should take notice of health care projects like those by e-motion which have been proven to save both money, and more importantly, lives. Other mobile applications include mobile banking, legal & social services, drug awareness and more.
Create a communication experience and bring it closer to the public of a brand or institution.
This is what we have done in the more than 400 roadshows that we have created since 1989.
We create experiences so that the publics know a brand, so that they understand and learn, to promote a project or an idea, to sensitize or to generate a positive memory. And we do it by bringing that experience closer to where that audience is: to any neighborhood, city, province, country or continent.
We manufacture special vehicles and mobile units to bring health, banking, educational or telecommunications services to the population in dozens of countries around the world.
About C-COM Satellite Systems Inc.
C-COM Satellite Systems Inc. is a pioneer and world leader in the design, development, and manufacture of mobile satellite-based antenna systems for the delivery of Broadband Internet to any location via Satellite. C-COM has developed a proprietary, one-button, auto-acquisition controller technology for rapid antenna pointing to a geostationary satellite with just the press of a button, enabling high-speed Internet connectivity where terrestrial markets are overloaded or simply don't exist.
The company has sold approximately 8,000 systems to customers in over 100 countries providing service to a wide range of vertical markets such as Oil & Gas Exploration, Military Communications, Disaster Management, SNG, Emergency Communications, Cellular Backhaul, Telemedicine, Mobile Banking, and others. The Company's iNetVu®brand is synonymous with high quality, reliability and cost-effectiveness.
In partnership with a renowned research team at the University of Waterloo's Centre for Intelligent Antenna and Radio Systems (CIARS), C-COM has been developing a next generation Ka-band flat panel antenna based on advanced phased array technology for enabling high-throughput mobility applications over satellite: land, airborne and maritime.
More information is available at: www.c-comsat.com
iNetVu ® is a registered trademark of C-COM Satellite Systems Inc.