OTTAWA, June 27, 2023 – C-COM Satellite Systems Inc., (TSXV: CMI and OTCQB: CYSNF), the leading global provider of mobile auto-deploying satellite antenna systems, today announced that it has received multiple systems orders for its iNetVu® Ka-75VP series antenna products from one of its US resellers.
These follow on orders for 12 antenna systems were received from Englewood, Colorado based Pelsue, a leading provider of satellite based rapid response connectivity units and will be delivered within a few weeks. The Pelsue MDS Link is a unique, highly portable self-contained satellite communications lifeline. Designed to be deployed by one person, in less than 15 minutes, it can deliver a reliable voice and Internet connection under austere conditions to first responders and public safety agencies.
Utilising the C-COM iNetVu®  Ka-75VP auto-pointing antenna system, this rugged rapid response unit is built on an all-terrain carriage and is equipped with a gasoline generator. It is capable to function at nearly any altitude and any climate.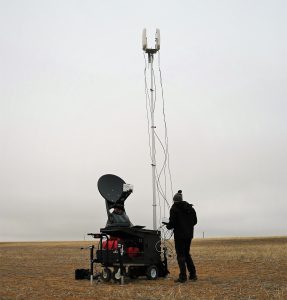 Pelsue Mobile Deployable Satellite Link equipped with the C-COM iNetVu® Ka-75VP antenna system
The design makes it possible to navigate narrow and hard to access trails and to provide firefighters deep in the forest with front line quick deploy reliable satellite-based communication connectivity.
"We are pleased to have been selected by Pelsue to be their satellite antenna system provider for their unique first responder and disaster management solution. We look forward to working with them to deliver many more of their unique mobile satellite-based communication solutions across the US for mission critical applications" said Leslie Klein, President and CEO of C-COM Satellite Systems Inc.
"We are delighted to integrate C-COM's innovative iNetVu® Ka-75VP antenna systems into our MDS Link units. The robustness and speed of deployment of these systems provide unmatched reliability in the toughest of conditions, ensuring that our first responders and public safety agencies have the vital communication lifelines they need," said Chris Munson, CEO of Pelsue. "Our partnership with C-COM underscores our commitment to using advanced technology to enhance the capabilities of our rapid response units, making us more prepared to handle emergency situations anywhere, anytime."