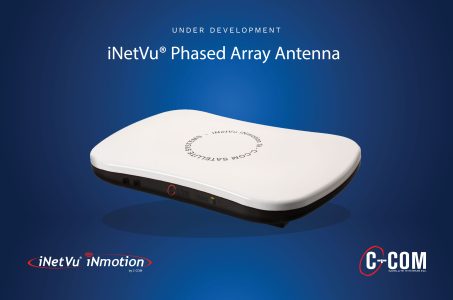 OTTAWA, October 31, 2023 – C-COM Satellite Systems Inc. (TSXV: CMI and OTCQB: CYSNF), the world's leading designer and manufacturer of commercial grade, auto-acquire mobile satellite antenna systems, announced today that it is receiving advisory services and conditional funding of up to $815,845 from the National Research Council of Canada Industrial Research Assistance Program (NRC IRAP) over the next 2 years to support the continued development of its phased array antenna technology.
The NRC IRAP funding will be used to continue the development of Beam Forming Integrated Circuits (BFICs) for Satcom applications. The $1.82M project will focus on the development of a low-cost, highly efficient, BFICs for Ka-band electronically steered antenna. This new funding will allow C-COM to develop and validate the next generation of highly efficient and cost-effective antenna modules.
C-COM has been developing a Ka-band flat panel antenna based on advanced phased array technology for enabling high-throughput mobility applications over satellite targeting land, airborne and maritime markets.
The fully electronically steered Phased Array Mobile Satellite Antenna has been designed to operate on the latest LEO, MEO and GEO constellations.
C-COM is in the final stages of testing of its 4096 elements Transmit and Receive electronical steered phased array antenna, which utilizes commercially available MMICs. The testing of this antenna is being carried out in the labs at the Centre for Intelligent Antenna and Radio Systems (CIARS) at the University of Waterloo.
"The development of new modules based on the next generation low-cost high performance MMICs will give C-COM's phased array antenna a competitive edge," said Bilal Awada, CTO of C-COM Satellite Systems Inc.
"We very much appreciate the support and assistance from NRC IRAP. This funding will allow C-COM to continue the development and advancement of our ESA antenna technology. It will take us a step closer towards the completion of the design, testing and manufacturing of an affordable and competitive electronically steered phased array antenna system, which will play a significant role in delivering high speed broadband solutions to global mobile satellite communication markets," said Dr. Leslie Klein, President & CEO of C-COM Satellite Systems Inc.