OTTAWA, November 14, 2016 – C-COM Satellite Systems Inc., (TSXV: CMI) a leading global provider of mobile auto-deploying satellite antenna systems, announced today that it has been named by the Canadian Innovation Exchange (CIX) as one of the year's 20 most innovative Canadian publicly listed technology companies.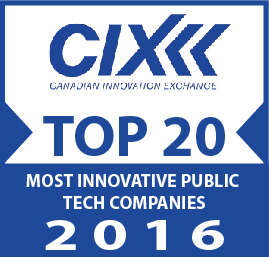 The CIX Public Investors Top 20 is a unique ranking – not based on share price or market cap – and is designed to showcase Canada's hottest and most innovative public technology companies. The Top 20 businesses are chosen based on a number of key factors including: overall innovation, product/service offering, depth of management, market opportunity, and business model.
"Congratulations to C-COM Satellite Systems, who joins this year's CIX Top 20 list of most innovative public tech companies," said Lauren Linton, Executive Director of CIX.
"These companies are truly innovative in their industry and personify the potential Canada has to become a global innovation leader," Linton continued.
"All of us at C-COM are pleased to have been selected as one of the most innovative technology companies in Canada by the Canadian Innovation Exchange," said Leslie Klein, President and CEO of C-COM Satellite Systems Inc. "The company continues to develop and enhance our existing product line and, in parallel, is working on advanced antenna products for the mobile market which have the potential to significantly change the way broadband communications is being delivered today. We sincerely appreciate this  recognition," continued Klein.
Organized by CIX and Stockhouse, CIX Public Investor Day will take place at the MaRS Discovery District in Toronto, on the afternoon of November 23rd, where C-COM will give a short presentation about the company, its existing products, how and where they are used, and the technologies under development.