Prague, Czech Republic, 18 February, 2022 — Aveco®, the media industry's largest independent automation provider, invites you to see what 30 years of automation innovation can do for you, at NAB in booth N1421. Aveco leads the industry with production, as well as playout automation and media asset management, both on-premises, in the cloud and in hybrid configurations.  Founded on 18 February in 1992, Aveco has grown from its five enthusiastic engineers from the Scientific Research Institute of Television and Broadcasting in Prague to a company with customers and offices throughout the world.
During our 30 years, Aveco has become synonymous with legendary reliability and the openness of our systems. Aveco has the industry's largest library of interfaces and implemented APIs, maintaining working relationships with all industry manufacturers – successfully building automation platforms with unprecedented reliability and scalability for hundreds of broadcasters.
Our deployments range from some of the industry's largest multi-channel, multi-site operations – such as India's ETV Bharat's revolutionary automation and media asset management system supporting 5,000 reporters, 24 news studios and 24 full time news channels, in 13 languages – to small standalone systems and from complete end-to-end production and playout facilities to individual products.
Thirty years has seen Aveco become the recipient of numerous industry awards stemming from constant innovation. These include the 2019 IBC Innovation Award for our work with ETV Bharat, Best of Show awards at both NAB and IBC, and, as a proud and active member of the MOS Protocol Group, Aveco shared in a Technology & Engineering Emmy® Award.
"Since our humble beginnings with our motto 'Let's try!', we've seen incredible changes in industry and technology," said Pavel Potuzak, CEO of Aveco. "Today, our project with Televisa in Mexico would have been unthinkable when Aveco was formed. Think about it… fully redundant master control with frame-by-frame disaster recovery for 80+ TV channels located on-prem and in the cloud."
From our first experiences using 2-inch Ampex VTRs (are you old enough to remember those?) all the way up to unifying today's on-premises and in the cloud worlds, we have been helping our customers to adopt new technologies and implement new workflows. With 30 years of the same ownership, without external investors and without subsidies, we have proven we do it right. Our customers know it, and they stay with us, some for our entire 30 year history.
"From tape to servers to the cloud, our motto has changed with the industry as well to 'Let's Talk Automation!' to better reflect our focus," said Potuzak. "With our vision of 'Create – Manage – Deliver', we provide media companies worldwide with our news/studio production automation, media asset management and playout solutions – on-prem, in the cloud and in hybrid architectures. We graciously thank our more than 300 customers worldwide that have helped us grow from a small group of friends in the Czech Republic to an international company with ten offices worldwide."
"And – we love it!"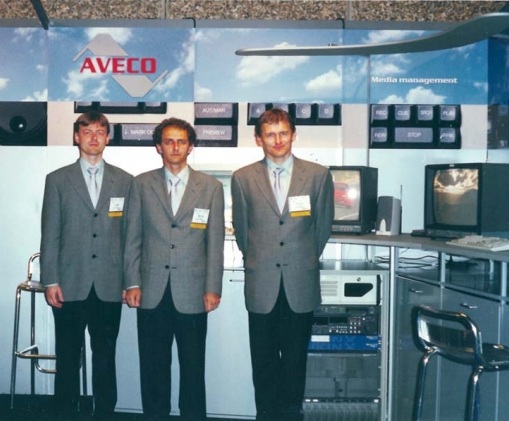 One of Aveco's first international trade shows, IBC 2000, with (L to R) Jiri Basek, the first employee hired in 1994 and still with Aveco;
and owners Michal Skala, CFO and Pavel Potuzak, CEO.