Montreal, CANADA – Feb 22, 2018 – Advantech Wireless announced today the release of its second generation Gallium Nitride (GaN) based 1kW X-band pulse amplifier designed for Radar Systems.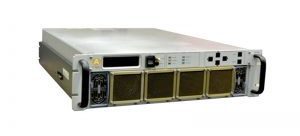 The new 1kW X-band Solid State Pulse Amplifier from Advantech Wireless is fully integrated and operate over the band of 8.9 – 9.6 GHz. These GaN based advanced systems are built for high reliability and include features such as duty cycle monitor and pulse width monitor to ensure trouble free operation. The 1kW APRA X-Band Solid State Pulse Amplifier it is designed to replace aging traveling wave tubes and Klystrons with advanced solid state technology.
These new pulse amplifier designed to be used in advanced Radar systems, as direct replacement of older generation Klystrons or TWTs. The most vital features are its small form factor, and increased range.
Advantech Wireless Second Generation GaN technology reduces power consumption and operating costs due to its very high reliability. Because of the system's linearity, the amplifier also produces a cleaner pulse, resulting in better range and resolution of the radar system.
"The advantage of solid state design over tubes and klystron technology is that this technology is much better suited for mobile radar applications," said Cristi Damian, Advantech Wireless Vice President, Business Development. "These new GaN based Solid State Pulse Amplifiers for Radars exhibit very high spectral purity, linearity, and low phase noise. The Radar pulse processing allows for very high pulse fidelity and sharpness, which translates in longer ranges, and higher detection capabilities."
The design of the 1kW X-Band Indoor SSPA is based on Advantech Wireless' industry-proven reliable Solid State Power Amplifiers and over 25 years of experience with high-reliability systems.